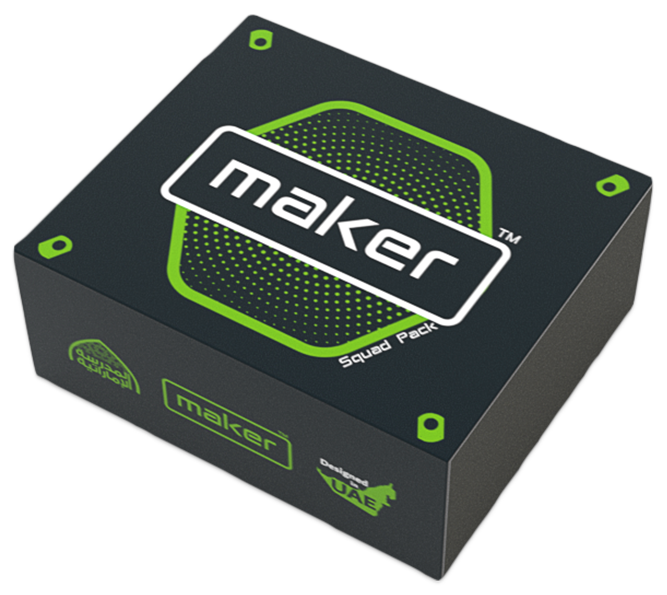 All-in-One Device
An all-in-one board that integrates sensing, lighting, and programming hardware and software in one easy-to-use package.
Visual and Text-Based Programming
Allows the learner to apply visual (Brokkly) and text-based (Arduino/Python) programming with an education friendly platform.
How to Use Guide
The Maker Guides come in two versions; a learner friendly visual guide and an advanced text-based format, both of which take the learner on a step-by-step journey through an extensive range of activities and challenges based on real-life applications.
Activity Based
A wide range of activity suggestions from easy challenges to more creative and advanced ideas, that can be sourced to supplement the classroom material. Supporting all these activities is a collection of instructional videos and tutorials for individual or classroom use.
Endless Possibilities for Endless Discoveries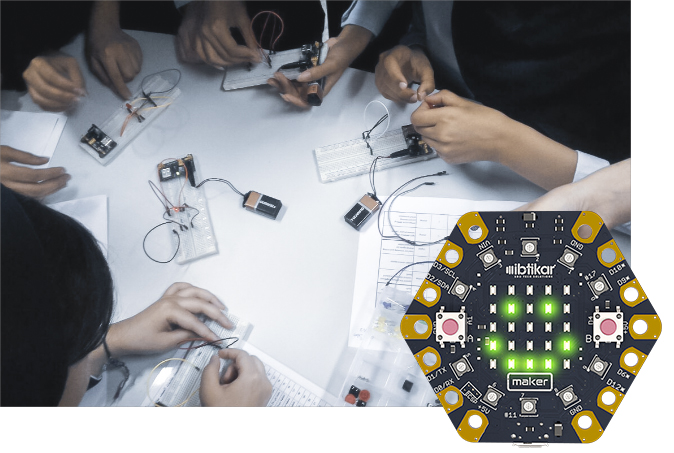 Maker is a compact, fully programmable, handheld, hexagon shaped microcontroller with the latest and greatest features to capture and engage the imagination of today's learner and tomorrow's innovator.
An all-in-one board with built-in sensors and LEDs, Maker is designed with the latest features that challenge the learner to explore, navigate and create with the world of embedded systems at their fingertips through easy, user-friendly experiences progressively developing skills to a high level of complexity.
Designed to be used with Ardublockly or the Arduino IDE, the Maker requires no soldering and is ready to use straight from the box. Suitable across multiple academic levels and accommodating visual and text learners, Maker is compatible with Ardublockly, Arduino and Python (covered in the guides).
The Maker has built in USB support, just plug in and program; it can be powered by USB or by an external battery power source as well as through direct computer connectivity.
Specifically designed for easy use and hands-on activities, with no soldering or modification required, the Maker is the ideal choice for teachers wanting to engage and excite students on a path of discovery. Having 12 innovative features, more than any other product in this class; means that Maker can be used in a wide range of STEAM based activities, challenges and projects at individual, group, or class level with or without an internet connection.
Maker comes in three packs: the Solo Pack with a single Maker kit, the Squad Pack containing five Maker kits and the Squad Plus Pack containing five Maker kits with five Servo/Expansion Shields.
The Maker Solo is ideal for individual use.
The Maker Squad Pack is suitable for group activities and is the ideal package for the classroom designed to make teaching and learning an adventure.
The Maker Squad Plus, suitable for the intermediate learner includes the Maker Servo/Expansion Shield that works as a bridge between the Maker and other modules and allows for the user to supply them with an external power supply.
Specification
Xbee socket for external Bluetooth connectivity
An Atmega 32u4-5V processor