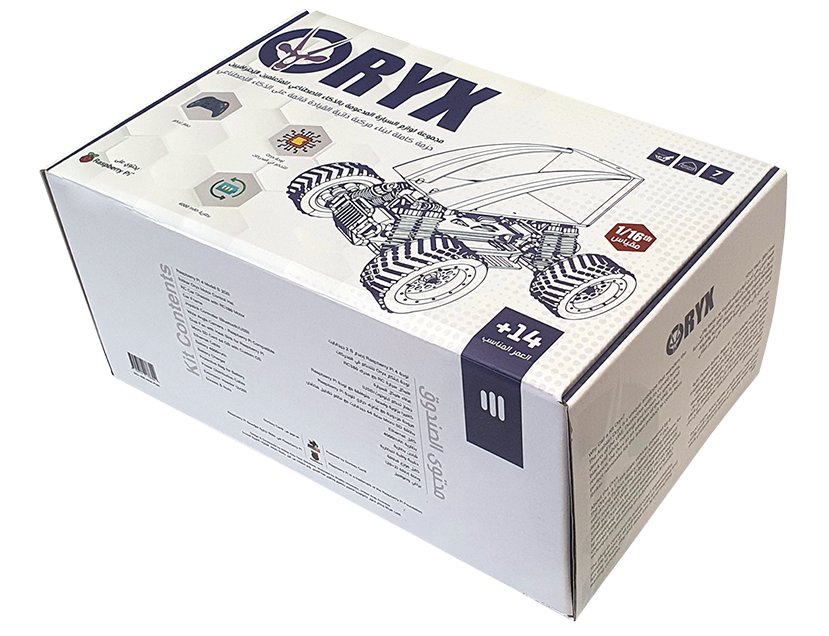 Hardware
An Ibtikar, custom developed motor control module for the RPi called the Oryx which extends the vehicle platform using extra modules such as digital input/output, analog input, servo motor drive, I2C, serial and SPI comms.
Software
Customised OS that is educationally friendly with a software stack that enables the vehicle to drive autonomously. It comes ready for headless use (ie. no need for external monitor and keyboard) avoiding complex setup and lost time.
Market Value
Cost effective as compared to market prices of individual components. Comes with high power battery and charger and easier power connectivity, allowing for extended use of the vehicle as compared to similar cars with standard batteries.
How to Use Guide
Comes with a 'Getting Started Guide' that includes clear step-by-step instructions and basic theory.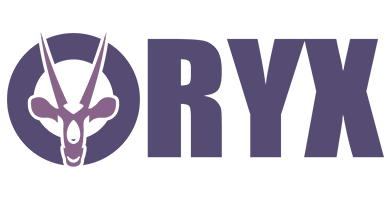 A Choice of Packages for Building a Self-Driving, AI Based Vehicle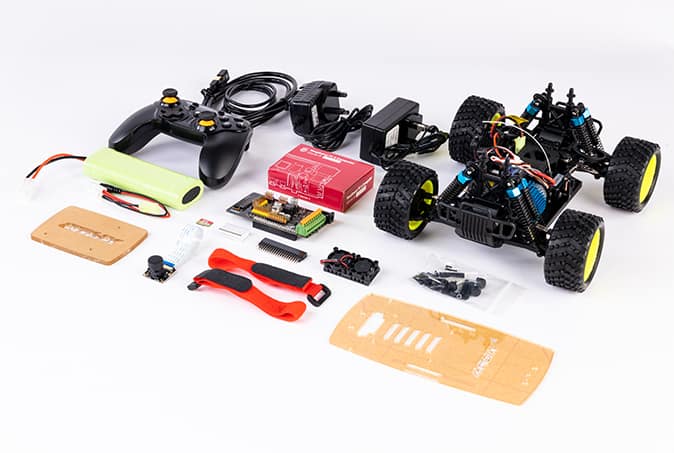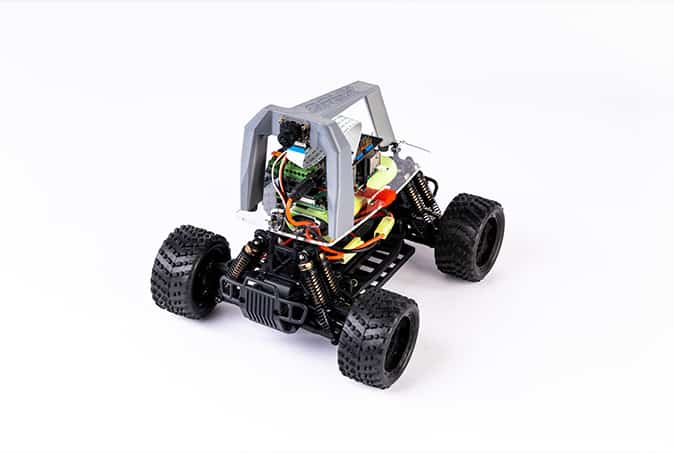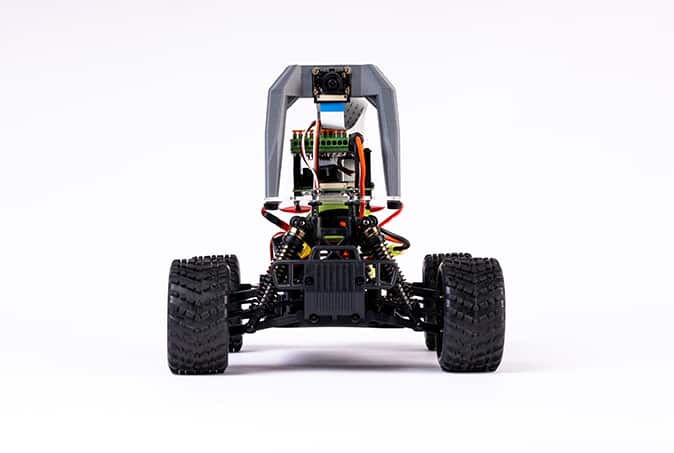 Why Call a Kit Oryx?
The Arabian Oryx is a unique antelope that wanders the deserts of the UAE. Distinctive with its 70cm curved horns, black and white markings and known for its speed and resilience, the Oryx as an emblem of the UAE, is the perfect namesake for the latest product to come from the Ibtikar design team.
About the Oryx
The Oryx is packaged in 3 specialised kits: the Oryx, the Oryx Core, and the Oryx Chassis.
The Oryx is the complete package for building a self-driving, AI based vehicle that includes the Oryx Core and the Oryx Chassis. The next generation in autonomous vehicle kits, Oryx comes fully equipped with all the necessary components and step-by-step guide to install sensors, assemble, get connected and drive to get your car 'on the road'.
The Oryx Core Kit is the development platform that will get you started on AI, computer vision, and interfacing hardware with Python.
The Oryx Chassis is a 1/16th scale vehicle, powered by a self-driving Python library called Donkey Car™ (An open-source DIY self-driving – AI based learning platform for small scale cars) that is organised as a series of commands and utilities allowing users to control the car, calibrate, capture data, train a neural network, and drive autonomously.
Getting Started with Machine Learning
With minimal components and easy assembly, Oryx can be trained to drive autonomously by employing reinforcement learning (RL) on real-world captured data, an advanced machine learning (ML) technique for generating an autonomous artificial intelligence (AI) model delivering practical real-world experience of machine learning and automation.
The kit components are designed to use the trained artificial neural network. Using a wide-angle camera to view the forward motion and a reinforcement model to control the steering and throttle commands based on the camera image, the car shows how a model trained in a simulated environment can be transferred to the real-world.
Plug-in components and product expandability provide learners at all skill levels with an interesting and fun way to learn the basics of machine learning, start training reinforcement learning models, and delve into AI and machine learning concepts in an exciting autonomous car experience.
Learners will get hands-on experience of how AI can learn patterns in data to automate tasks for a variety of situations. The Oryx Kit stretches the imagination, provides innumerable challenges, taking kit construction to a new technological level through engaging and practical application of complex and current topics in the developing field of machine intelligence.
Specification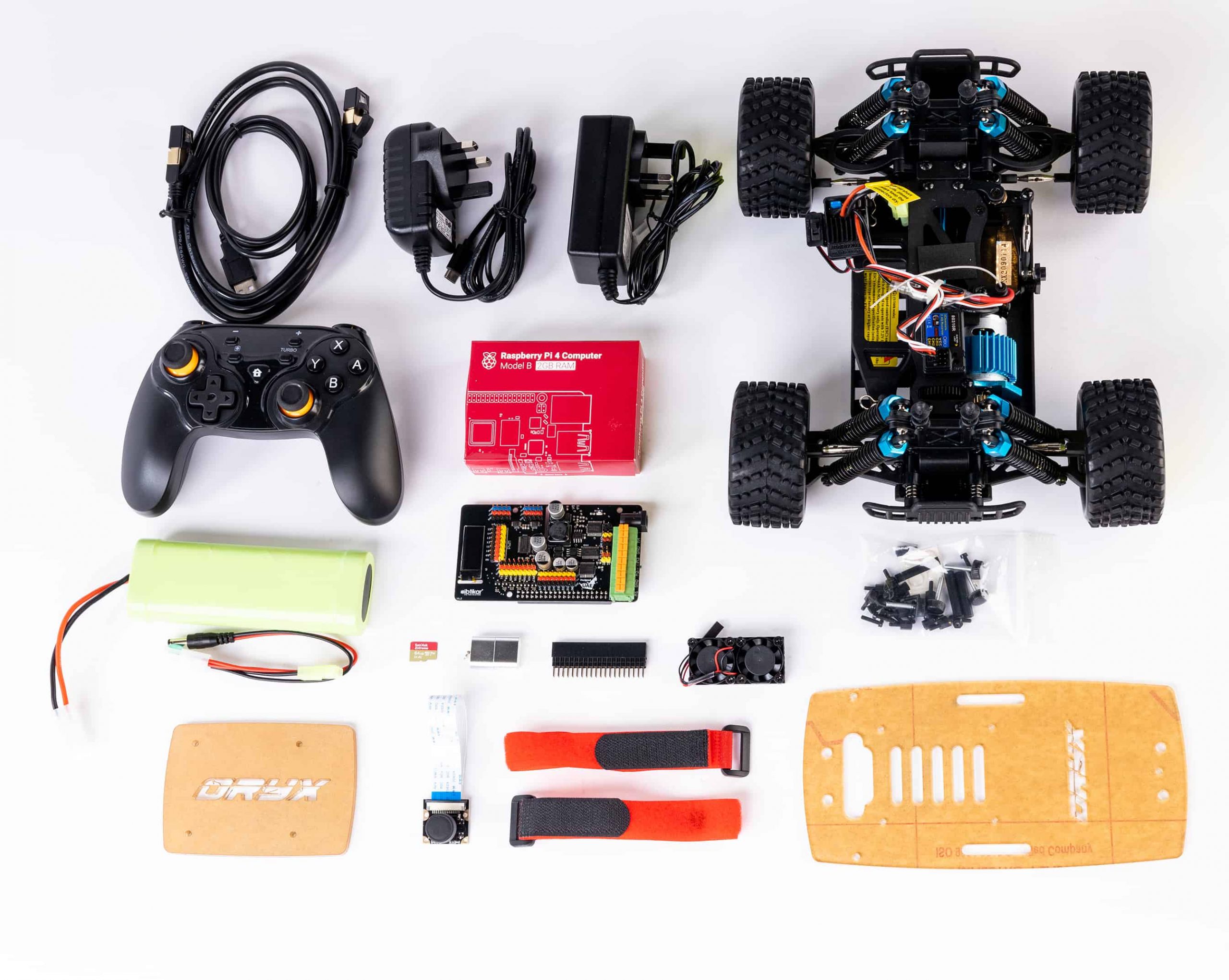 | | | | |
| --- | --- | --- | --- |
| | Oryx | Oryx Core | Oryx Chassis |
| Ibtikar Oryx Motor Control Hat | ✓ | ✓ | |
| Raspberry Pi 4 model B 2GB | ✓ | ✓ | |
| Joystick controller (Bluetooth/USB) | ✓ | ✓ | |
| Micro SD card 64 GB with custom OS pre-installed | ✓ | ✓ | |
| Wide angle camera – Raspberry Pi compatible | ✓ | ✓ | |
| Dual fan with heat sink for Raspberry Pi | ✓ | ✓ | |
| Power supply unit 5V, 3A | ✓ | ✓ | |
| USB micro-SD card adaptor | ✓ | ✓ | |
| Ethernet cable 1 meter | ✓ | ✓ | |
| Extension header (2×20), and stand-offs | ✓ | ✓ | |
| RC car chassis with servo and RC380 motors | ✓ | | ✓ |
| NiMH battery 4000mAh 7.2V | ✓ | | ✓ |
| Smart NiMH battery charger | ✓ | | ✓ |
| Power distribution cable | ✓ | | ✓ |
| Small acrylic base with screws, nuts | | ✓ | |
| Car frame and acrylic base with screws and nuts | ✓ | | ✓ |
| Hook and loop tie for battery | ✓ | | ✓ |