Introduction
In a world driven by technology, the realm of education is undergoing a profound transformation. Ibtikar recognizes the potential of e-books and e-libraries in revolutionizing the way student's access and engage with educational content. This article dives into the shift from traditional textbooks to their digital counterparts, exploring how Al Diwan is leading the charge towards a more environmentally conscious and convenient future for UAE students.
Learning Compass: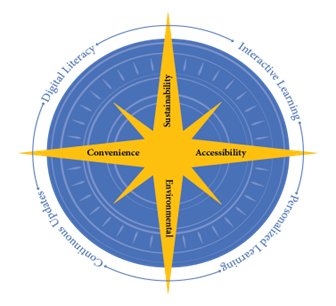 1. Sustainability and Environmental Impact
The environmental toll of traditional textbook production is undeniable. Trees are felled, chemicals are used, and energy is expended, all contributing to a significant carbon footprint. By replacing paper with pixels, we are not only reducing its ecological impact but also setting an example for students on the importance of responsible resource consumption.
2. Convenience and Accessibility
Gone are the days of heavy backpacks weighed down by stacks of textbooks. Al Diwan's shift to e-books has lightened the load for its students, both figuratively and literally. With e-books, students can carry an entire library within a single device, allowing them to study anywhere, anytime. This convenience aligns perfectly with the modern student's dynamic lifestyle, promoting self-paced learning and the ability to switch seamlessly between subjects.
3. Interactive Learning Experiences
E-books are not just digitized versions of printed books; they offer a wealth of interactive features that enrich the learning experience. The Al Diwan reading platform commitment to enhancing education is evident in the curated e-books hosted in its library that include multimedia elements, embedded videos, interactive quizzes, and links to external resources. This multi-sensory approach captivates students' attention, making learning more engaging and impactful.
4. Personalized Learning Paths
The digital landscape empowers Al Diwan to provide a more tailored educational outcome to individual students' needs. E-books can be adapted to suit different learning styles and paces, enabling personalized learning journeys and the platform can host these books and make them available easily and seamlessly.
5. Fostering Digital Literacy
Incorporating e-libraries and e-books into the curriculum nurtures digital literacy—a critical skill in the 21st century. Educators recognizes that preparing students for the digital world means more than just teaching subject matter; it means equipping them with the ability to navigate and critically assess digital content. By integrating digital resources, the institution ensures that students graduate as confident and responsible digital citizens, and this is made possible with support of high quality and available digital platform such as Al Diwan.
6. Continuous Updates and Currency
Traditional books can quickly become outdated in rapidly evolving fields. E-books, however, can be updated seamlessly to reflect the latest information and developments. Al Diwan's enablement of management and provisioning of digital resources ensures that students have access to the most current and relevant content, preparing them for careers that demand up-to-date knowledge.
Conclusion:
The shift from traditional textbooks to e-libraries and e-books marks a significant stride towards a greener, more accessible, and interactive educational landscape. Implementing a forward-thinking approach and utilizing a platform such as Al Diwan, demonstrates how institutions can harness technology to create a more sustainable future and provide students with a cutting-edge education.
As we look ahead, the convergence of education and technology will continue to shape the learning experiences of generations to come, making the classroom a dynamic, digital realm of exploration and growth.